Founded by four Taiwanese entrepreneurs born between 1981 and 1990, FunNow offers on-demand food ordering and lifestyle experiences. Incredibly popular among young people, the app has been downloaded one million times worldwide and now boasts 1.5 million members.
「Meet Taipei」Grand Prize from CDIB Capital Group
In 2016, FunNow participated in the Meet Taipei startup community activity organized by Business Next, where it learned about the CDIB Capital Innovation Accelerator. Our startup team there provided one-on-one consultation and got to know FunNow. It also won a grand prize from CDIB Capital Group.
CDIB Capital Innovation Accelerator Fund
Its unique business model, excellent execution, and international team are the key reasons why we think FunNow has huge potential. The company was one of the first investment teams we invested in after establishing the CDIB Capital Innovation Accelerator Fund in 2017.
Our investment strategies and value creation models are tailored to each enterprise and help them take further steps towards innovation and internationalization.
The investment from CDIB Capital Innovation Accelerator Fund has helped FunNow increase its scale in record time. Thanks to our abundant resources and connections in the industry, not only has the company seen its valuation grow, it has also become more international.
While FunNow focuses on developing products, our extensive connections within the industry allow us to provide FunNow with timely market information and strategic advice. Activities organized by the Accelerator Fund also provide it with opportunities to meaningfully engage with other investors and build collaborative partnerships.
Ties to the Capital Market
We find suitable FunNow investors via the Accelerator Fund. After a trip to Japan in 2019, FunNow began to establish relationships with overseas venture capital firms and received an investment from the Japan-based CSV Venture Fund.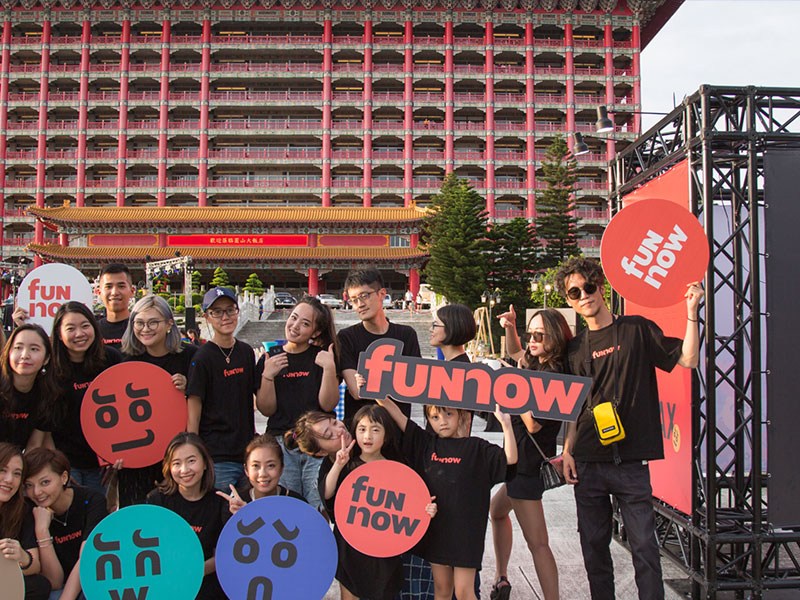 Number of Global Employees Added From 25 to
90
Overseas Market Partners
5,000+
"CDIB Capital Innovation Accelerator Fund is like our think tank. They can always provide objective views regarding important decisions, help entrepreneurs avoid blind spots, assist them to fully leverage their strengths, and show the team how to shine on the international stage."
TK Chen
CEO/Founder, FunNow
Scale-up of New Industries
The network industry faces global competition, especially from startups ranging from the seed stage to the growth stage. Accelerating scale is the key to success for these companies. Only by obtaining the advantages of economies of scale, the network effect, the platform effect, and brand recognition will companies be able to thrive. Capital injection, resources, talent, and know-how are the basis for growth and CDIB Capital Innovation Accelerator offers all of these attributes. That is why it is able to help startups like FunNow take off quickly.
Exchange of Experiences
As a trailblazing investment firm, we stay ahead of the curve and invest early in the internet, cloud, IoT, and next-generation e-commerce technologies. We also provide the resources companies need to grow. This means not only creating opportunities for startups to engage with leaders of various fields, but also for cross-industry cooperation in the future. Outstanding returns coupled with robust growth will lead to a blossoming venture capital industry, which will then shift its focus towards pre-seed to series B rounds, thus speeding up the development of a next generation industry.
Entrepreneurship Consulting
We offer professional entrepreneurship consulting via the CDIB Capital Innovation Accelerator. This includes recommending partners like FunNow join the AAMA entrepreneurial community, one-on-one encounters with Accelerator mentors who help them solve problems on Startup BoD Day and exclusive "Entrepreneurship Afternoon Tea" for investors to meet celebrity mentors who help the next generation learn from entrepreneurial pioneers and fulfil their entrepreneurial ideals.
Combining the Power of Capital Markets
As the largest platform for Taiwan's startups, we actively engage with peers in a wide range of fields and fully understand our partners' desire to expand to overseas markets. We use the abundant resources of the CDIB Capital Innovation Accelerator to help startups branch out of Taiwan and tap into the international capital market. FunNow is currently taking its first steps in the international market and has seen encouraging results in Japan.
Join Us on the Road to Success
Investment Strategy
In pursuit of innovation and growth, we employ specialized investment strategies to deliver outstanding risk-adjusted returns.
Strategic Advisory
We design tailor-made investment strategies for clients seeking balanced and diversified portfolios.
KKDay is the leading e-commerce travel platform in Asia that connects travellers with authentic tours and activities in more than 90 countries and 550 cities around the world.